Agri-Solar
Light sharing between farming and electricity.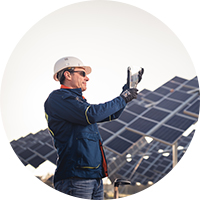 These days, agriculture is highly impacted by climate change. Agri-Solar could provide an answer by combining agricultural production and electricity generation on the same surface area. The idea is to install photovoltaic panels that will protect crops and generate zero carbon electricity. The trial, based in Seine-et-Marne, is enabling EDF's R&D to carry out an agronomic study on the effect of intermittent shade on crops. The first results are encouraging and a new trial is planned for vines.
Solution developed by the EDF group.