Aiming for low-carbon hydrogen
Electrolytic hydrogen to decarbonize the economy.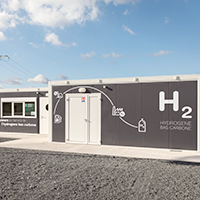 Today, generating hydrogen requires 95% of fossil energy. To achieve renewable and low-carbon generation, Hynamics, an EDF group's subsidiary, is using the electrolysis of water, in collaboration with McPhy, a hydrogen specialist. Concurrently, EDF's R&D has developed an electrolyser test platform to assess electrolysers from hydrogen key players. This will allow researchers to carry out tests, under real conditions and with multiple scenarios.
Projects developed with Hynamics, an EDF group subsidiary.
Finding a way to generate renewable and low-carbon hydrogen is essential for the energy transition, and the method making use of water electrolysis using low-carbon electricity meets this challenge. It will notably promote the transformation of industry and heavy goods transport. Hynamics, a subsidiary of the EDF group, is now developing turnkey solutions for the generation and distribution of hydrogen from electrolysis.
The electrolyser test platform, located at an EDF's R&D site in the Ile-de-France region, enables researchers to obtain tangible results in real-life situations, working within specific constraints and in complete safety. This test platform is also connected to the experimental platform for testing electrical solutions, Concept Grid. Low-carbon hydrogen generation trials will therefore benefit from electricity from different renewable energy sources, some of which come from prospective energy mixes.