La Marseillaise building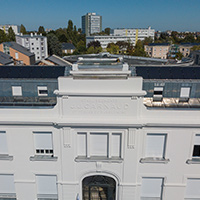 La Marseillaise project involves renovating an iconic building in the city of Nantes. Players in property, social services and EDF have come together for this project, which incorporates the means for local electricity generation and self-consumption. Heat and electricity are supplied by hybrid photovoltaic solar panels from Dual Sun, and domestic hot water produced using the solution from Heliopac. This building, containing 39 housing units, is a model of energy performance.
Project developed by EDF, working with La Nantaise Habitation, Galéo, the Pays-de-la-Loire region, Dual Sun and Héliopac.