Offshore wind turbine
Research to support offshore wind power.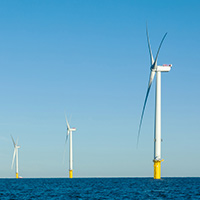 The EDF group contributes to the development of offshore wind turbines by creating innovative solutions. For foundations in particular, solutions include monopile, "jacket" lattice, gravity in concrete and TLP floating foundations. These innovations contribute to lowering the cost of wind farm construction, allow EDF to optimise their size, and increase efficiency. Today, offshore wind power is a source of renewable energy in full swing in Europe and across the world.
Project developed by the EDF group.