Smart Lighting Services
Transforming existing lights into a smart network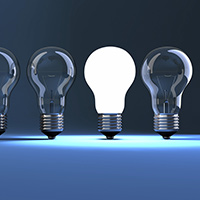 The Smart Lighting Services secure communications solution uses LEDs and the lighting network. In addition to smart lighting management, companies and industries can benefit from an internal communications network that is geocontextualised. This technology can be used in a number of ways to transfer data as well as manage assets and people, for example: patient files at hospitals, locating equipment, monitoring safety of lone workers.
Project developed by Dalkia, an EDF group subsidiary, in partnership with LifiNéo.
LiFi technology is an intelligent lighting solution that is capable of transmitting data. The principle is simple: LED light transmits 1 bit when switched on, and 0 bit when switched off. If this action is accelerated (at which point it becomes invisible to the naked eye), it creates a variation in frequency that can transfer data. For companies and organisations in vulnerable fields, having a secure/proprietary internal connection system is a good way to protect and limit the possibility of cyber attacks. Lifi technology allows information and files to be transmitted, just like other types of connections. The difference is that transmission takes place through LED lights and the communications network (Ethernet or PLC). Each LED light serves as a GPS to mark its position.