Sowee, the smart home device
For connected, comfortable and economical living.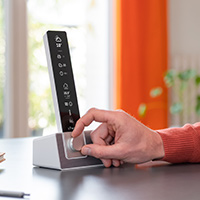 Through solid partnerships with leaders in home equipment (Saunier Duval, Aldes, Delta Dore, Muller and Daikin), Sowee is bringing improvements to its connected home management device and designing a plug and play solution that is innovative and modular. Easy to install and affordable, this device makes it possible for anyone to transition to a smart home, for more comfortable living and energy savings.
Innovation developed by Sowee, an EDF group subsidiary.
Thanks to partnerships with leaders in home equipment, the Sowee smart home solution allows users to customise modes according to their lifestyle or personal habits. For example, as soon as the occupant leaves the house, the shutters close automatically, the lights are switched off, and the heating is turned down. The goal is to create a more comfortable living environment and avoid unnecessary energy consumption when no one is home. As a bonus, users can expect up to 25% less energy usage. This is how smart homes become an attainable reality for their inhabitants. And of course, their data is safe.