The smart and evolving charging station
The latest generation for recharging EV.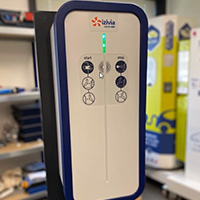 The latest charging station harnesses the reliability of Hager's industrial experience and Izivia's expertise in electric mobility. Ergonomic, smart and adaptive, it resolves issues involving user recharging needs, site technical limits and customer budget. This charging station will be compatible with future Plug and Charge and Smart Charging electric mobility services.
Project developed by Izivia, an EDF group subsidiary, in partnership with Hager.
The charging station offers a solution that is 100% integrated, a precursor to changes to come in the electric vehicle recharging field, for a better driver experience. It meets the pending ISO 15118 standard, which enhances and secures data transfer between the terminal and the vehicle to provide a smart and automated recharge, using cloud technology. This charging station is flexible and can adapt to current electric vehicle as well as future models. Universal, it is also compatible with a new range of services. For example, it will automatically recognise vehicles equipped with the Plug and Charge feature. It can also regulate vehicle recharge, leaving users a choice between a quicker, higher-performing recharge and a normal and less costly one. For recharging operators (private companies, communities) as well as automobile manufacturers, this type of new generation charging terminal presents many advantages for related services. These will lead to better terminal station performance and increase ability to satisfy growing demand.